Living and Driving with Solar
Posted by karen in Front, News, Our News, on January 8, 2016
---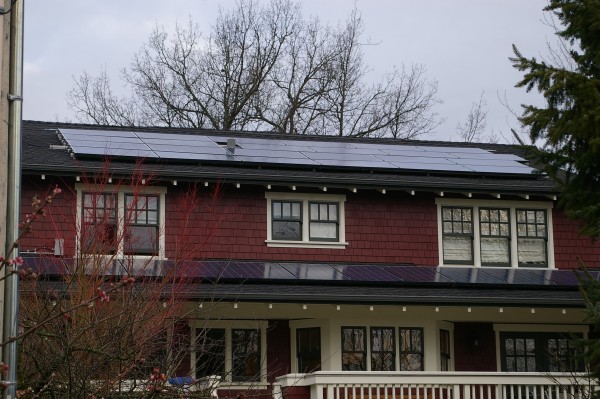 VREC is helping a local Vancouver resident in the Dunbar area, Oliver Gilbert, live and drive with solar. In addition to the 9 kW photovoltaic installation, VREC also installed an electric car charger for the homeowner's Tesla EV.  We also upgraded the lighting in the house to make it more energy efficient.
We spoke with Oliver back in November to check in on how his system was doing, and on a sunny day in late November his solar system was producing about 20 kWh per day. Oliver added that, "since the system was installed around the second week of August, I've generated ~2,200 kWh. I've driven ~4,500 km in the same time frame and the Tesla shows I've used about 950 kWh. I'm driving on sunshine!" Oliver added that, "I think the bottom line is that I will easily power two electric cars just from the panels on my roof."
Oliver Gilbert's energy efficient home and vehicle are powered by solar energy, but there is still more that Oliver would like to do.  The next stop for Oliver is replacing gas heating with a heat pump, eventually moving to using zero fossil fuels.
At VREC, we are not just selling a product, but helping customers reduce their greenhouse gas footprint, and move away from fossil fuels.
Below is real time data from this system:
You can also view the real-time production data here:
http://www.apsystemsema.com/intoDemoUser.action?id=bc3ffc6c4f8fd259014f907f595d00ef