Upgrading your lighting technology is a very effective method to reduce your power needs, reduce your environmental impact, and save money.  Vancouver Renewable Energy offers lighting upgrade services to significantly reduce your power usage.  As we are a BC Hydro Powersmart Alliance member, you'll be eligible to apply for any of the available BC Hydro incentives.
We can evaluate your current lighting implementation and propose and install new lighting solutions.  Payback periods of less than 3 years are very common for simple projects.  In addition to saving money, newer lighting technologies typically last much longer, provide a better quality of light, and use materials that have a lower environment impact (such as less mercury content).
Linear fluorescent lighting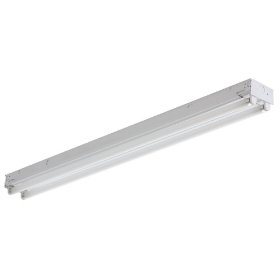 In some cases, a lighting upgrade is necessary.  For example, T12 fluorescent lighting with magnetic ballasts have been phased out through provincial legislation and will soon become harder to find in stores.  This type of linear fluorescent lighting is very common in parkades, or underground parking lots.  Upgrading T12 fluorescent lighting to T8 offers numerous benefits, including:
significant cost savings, as many linear fluorescent lights remain on 24 hours a day
help reduce the building's environment impact as they use less mercury and energy
improved light quality
reduced maintenance costs since the lamps last longer
significant annual cost savings that can help fund a renewable energy project (like solar hot water or photovoltaics)
lighting upgrades typically have smaller project costs that can usually fit within a building's current annual operating budget
Solar-powered wireless motion or light sensors
It's common to find areas with lights on 24 hours a day, while the light is actually only required for a few minutes of the day, or areas where lights are on even though the area is fully lit with sunlight.  Why not install solar-powered wireless motion and light sensors?  Significant power savings can be achieved by automatically turning off the lights when they are unnecessary.  Vancouver Renewable Energy can provide wireless motion sensors or photosensors that are solar-powered.  If the lights being turned off are of high wattage, then the payback period can be quite quick.
Please contact us today to discuss your lighting upgrade options!