BC's First Community-Owned Solar Energy Project Launch
Posted by in News, Our News, on April 3, 2016
---
On March 30, 2016, BC's first community-owned solar energy project was officially launched at Vancouver Cedar Cottage Cohousing located at 1733 East 33rd Avenue in East Vancouver.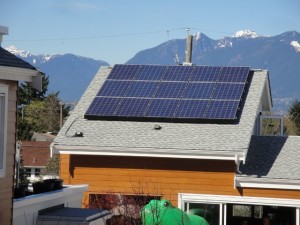 Solshare Energy's 23 kW solar photovoltaic system, installed by Vancouver Renewable Energy, is situated on a multi-family residential cohousing complex and will provide electricity for the common areas.
The project is one of the first leasing projects under BC Hydro's Net Metering Program, which means that any excess electricity generated by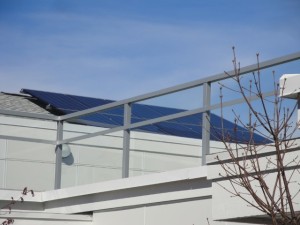 the panels that is not used by the cohousing complex's common areas goes back into the electrical grid for credit.
Rather than paying significant upfront capital costs to own the solar panels, Vancouver Cedar Cottage Cohousing leases the panels from Solshare Energy for a monthly fee base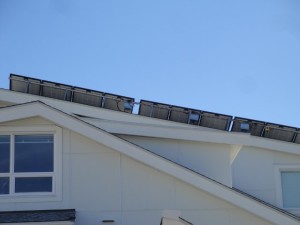 d on the electricity generated.  Ongoing maintenance will be provided by Vancouver Renewable Energy, as needed.  The capital for the project was raised by local investors who purchased shares in Solshare Energy.  Investors can expect an initial return of 3% per year from the green premium charged on the lease to the cohousing complex.
Initial funding was provided by a loan from Bullfrog Power, and the system was acquired, designed, and installed by Vancouver Renewable Energy.
The March 30th launch event fortuitously took place on a beautiful, warm and sunny day, and showcased the new solar photovoltaic system with tours of the project, door prizes, free food and drinks, including ice cream courtesy of locally-owned Earnest Ice Cream!   Speeches were given by Rob Baxter of Vancouver Renewable Energy, Vancouver City Councillor Andrea Reimer, JM Toriel of Vancouver Cedar Cottage Cohousing, and Dave Borins of Bullfrog Power.
Watch Rob Baxter give a brief talk at the launch event, describing the solar photovoltaic system installed at Vancouver Cedar Cottage Cohousing: watch video