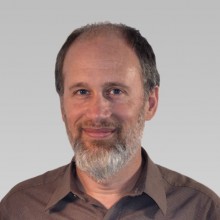 Rob is a co-founder of Vancouver Renewable Energy where he has provided consulting, design, marketing and project management services for renewable energy systems.  As part of that role he helped initiate and complete the first grid-tie photovoltaic install in the city of Vancouver. Prior to that he owned an IT consulting firm that worked with clients across North America.
He has been an active member of BCSEA (BC Sustainable Energy Association), was president of SPEC (Society Promoting Environmental Conservation) and has taught a course on solar energy for Langara College Continuing Studies. Rob has an MBA from the University of Western Ontario. He has also completed photovoltaic training at BCIT and ISO 14001 auditing courses accredited by IEMA and ANSI-RAB.
Rob has appeared on CityTV, Global TV, CTV and CBC discussing sustainability and energy issues. He has also spoke at regional green building conferences.